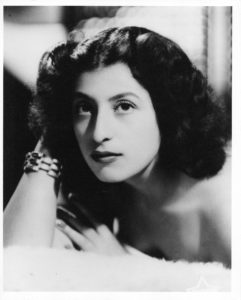 MARIA VIOLA HERNÁNDEZ CAMARGO (September 21, 1923 ~ December 20, 2015), THE DAUGHTER OF MEXICAN REVOLUTIONARY AND METHODIST MINISTER, REV. EMILIO NIEVES HERNÁNDEZ MALACARA, HAS PASSED.
VIDEO SLIDE SHOW AND SOUNDTRACK (with soprano soloist Maria Viola Hernández Camargo, El Coro latino de Los Angeles, and The Angel City Orchestra):
ABOUT MARIA VIOLA: Noted soprano soloist, dedicated social worker and beloved matriarch to an extended family, Maria Viola Hernández Camargo (professionally known as Maria Villafañe) passed on Sunday morning, December 20, 2015, in Altadena, California. She was 92. Surrounded by her children and grandchildren, and guarded by her beloved, loyal dog "Tito," Maria Viola died peacefully in her home with its gardens and flowers that she loved so much.
Maria Viola was the only daughter of Reverend Emilio N. Hernández Malacara and Fausta Camargo Durán, both Mexican-born advocates and fighters for social justice. A child-worker at the hacienda, Los Altos de Ibarra, in Guanajuato, Mexico, Emilio was befriended and mentored there by anarchist revolutionary Práxedis G. Guerrero. Prax and Emilio fled Porfirio Díaz's persecution and continued their revolutionary activities in the Southwest of the United States. There they became active and close associates with members of the Partido liberal mexicano (PLM), including Ricardo Flores Magón. Later, transforming into a pioneering Methodist pastor ministering to Latino immigrants in the U.S., Emilio met Doña Fausta and they married in 1921. Fausta was as courageous as Emilio in confronting injustice. As a girl in Chihuahua, she fought her way into General Pancho Villa's camp and confronted Villa in order to bargain with him to spare the life of elderly father, Don Cristóbal Camargo, who Villa had taken captive to hang as an example, because Don Cristóbal was a landowner. Villa, though, was impressed by her valor and he agreed to Fausta's offer to turn over to his soldaderas all of her family's goods, foods and livestock, and burn down the family's rancho herself, in exchange for her father.
Maria Viola was born to these fearless people in Long Beach, California on September 21, 1923. Maria Viola or "Violet" (Violeta) grew up along with her late brothers, Hubert Camargo, and Oscar and Mitchell Hernandez, in a family dedicated to Christian spirituality, social justice, serving their communities and helping others. Maria Viola's parents encouraged the musical and artistic development of children in every church and mission they led, and this included their own children. Along with her brothers, Maria Viola served God through music from early childhood. Whether out in the fields of California's Central Valley as a three year old singing hymns for Mexican agricultural workers, or singing solos in the great cathedrals of Europe as an adult, Maria's crystalline and angelic voice captured the hearts and elevated the spirits of all who heard her sing. Her father made sure she received operatic voice training from some of the world's best teachers and vocal coaches, including famed former Metropolitan Opera bass Andrés de Segurola teaching in Hollywood, Russian-born soprano Sonia Verbitsky at the National Conservatory of Music in Mexico City, and bel canto singer and teacher Gertrude Darsie in Pasadena, California.
Soon after World War II ended, Maria met the love of her life Roberto A. Domínguez Díaz, a handsome Puerto Rican-born U.S. Army veteran whose kindness, helpfulness, charm and exquisite manners are still fondly remembered. Their wedding in Santa Paula, California in 1946 began a felicitous 59-year marriage that produced three children, Walter, Yvonne and Yolanda, and seven grandchildren and three great-grandchildren. Maria's beloved Robert passed in 2005. With a commanding presence and powerful voice that was suited to grand opera, Maria weighed pursuing that career, but soon she felt her destiny was with her family, serving the community and praising God through her exceptional voice. From the 1940s through the 1980s, Maria gave operatic recitals to benefit churches, and arts and culture societies in Los Angeles, Pasadena and throughout the Southern California region. She was the featured soprano in Handel's "Messiah" in annual performances by El Coro Latino, including at the Music Center in Los Angeles. She continued to sing as a soloist in choirs until 2012. She loved teaching voice to numerous young people in schools and individually.
Maria's strong sense of social justice found most expression during her long career as a social worker in the Pasadena office of the California State Department of Rehabilitation. With her characteristic resoluteness and refusal to take "no" as an answer, Maria succeeded in helping countless firefighters, police officers, construction workers and many others get the help they needed to get back on their feet after devastating injuries and traumas. Despite demands of work, singing and family, Maria also made time to complete studies in Psychology and Music and receive a Bachelor's Degree in 1980 from Immaculate Heart College in Los Angeles.
Maria never forgot that her family's origins were in Mexico, a country she had lived in and traveled through, and she adored it and its rich culture, especially its indigenous traditions, music and visual arts. Maria Viola was highlighted in the acclaimed 2014 feature documentary, "Weaving the Past: Journey of Discovery," that detailed the epic journey to the U.S. of her Mexican-born parents, and a generation of Mexican immigrants and revolutionaries over one hundred years ago.
Maria is survived by her son, filmmaker Walter Robert Domínguez Hernández and her daughter-in-law, actress Shelley Morrison; her daughters Yvonne Marie Domínguez Hernández and Yolanda Patricia Domínguez Hernández; grandchildren Heather Gibson Domínguez, Margaux Gibson Domínguez, Cory Green Domínguez, Lacy Green Domínguez, and Jenna Green Domínguez, Robert McCreary Domínguez and Miranda (Missy) McCreary Domínguez. A funeral and burial was held on Tuesday, January 5 at Church of the Hills in Forest Lawn ~ Hollywood Hills cemetery in Los Angeles. The service was officiated by Bishop Mary Ann Swenson, elder of the United Methodist Church. Maria Viola was a beautiful and inspirational woman who will be remembered and greatly missed by all her extended family, colleagues, friends and students. She is singing with the angels.